OutBack FM60/80 MPPT Charge Controller

The FLEXmax charge controller is the latest maximum power point tracking (MPPT) charge controller from OutBack Power Systems. The innovative FLEXmax MPPT software algorithm is both continuous and active, increasing your photovoltaic array power yield up to 30% compared to non-MPPT controllers.

With active cooling and intelligent thermal management, FLEXmax charge controllers can operate at their full maximum current rating, 60 amps, in ambient temperatures as high as 104°F (40°C). Controllers can be used with battery systems from 12 to 60 VDC with PV open-circuit voltage as high as 140 VDC. The controller's set points are fully adjustable to allow use with virtually any battery type, chemistry and charging profile. The OutBack FLEXmax controllers allow you to use a higher output voltage PV array or hydro with a lower voltage battery - such as charging a 12 or 24VDC battery with a 48VDC PV array. This reduces wire size and power loss from the PV array to the battery/inverter location and can maximize the performance of your PV system.

Xantrex C-40 and C-60 PWM Controllers

The Xantrex C-35, C-40, and C-60 PWM (pulse width modulator) controllers can be used as PV charge controllers, DC load controllers or DC diversion regulators in 12-, 24- and 48-volt systems (only the C-40 can be used in 48-volt systems). They operate in only one mode at a time. As diversion controllers they send excess power to a "dummy load" (such as a water or space heater) to regulate hydroelectric or wind generators. When used in diversion mode, derate the amperage by 25%. All Xantrex controllers, when used as a charge controller, have field-adjustable bulk and float set points and perform automatic equalization every 30 days. Equalization can be manually initiated with automatic shut-off.

The FLEXmax 60 can be used with PV arrays or hydros up to 750 watts when charging a 12-volt battery, 1,500 watts when charging at 24 volts, and 3,000 watts when charging at 48 volts.

The FLEXmax 80 can be used with PV arrays or hydros up to 1,000 watts when charging a 12-volt battery; 2,000 watts when charging at 24 volts; and 4,000 watts when charging at 48 volts.

Controllers come standard with a display of PV system performance that is easy to use and understand. The 4-line, 80-character backlit LCD display is also used for programming and monitoring the system's operation. They can be connected to the OutBack MATE series of system controllers and displays to allow monitoring of up to eight controllers from locations up to 300 feet away. The MATE also includes an opto-isolated RS-232 port for connection to a PC for data logging and system monitoring.

FM60 dimensions: 13.5"H x 5.75"W x 4"D. FM80: 16.25"H x 5.75"W x 4"D. Weight: 12 lbs. ETL Listed to UL 1741, and CSA Listed to C22.2 No. 107.1. 5-year standard warranty. 10-year warranty available.

The FM60/80 must be set up for hydro, or it can be damaged.
We will supply details.

Order the optional temperature sensor for a more accurate battery charge controller. The optional LCD digital display shows battery voltage, array amps and watts, cumulative amp-hours and a separately resettable "trip" amp-hour measurement. The digital display is available for mounting on the front of the charge controller, or with a 50- or 100-foot cable for remote mounting in a double-gang electrical box. UL Listed. 2-year warranty.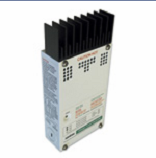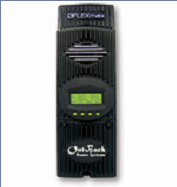 Midnite Classic MPPT Charge Controller 150, 200, 250

Features:
· 150, 200 and 250V operating voltages.
· 12-72V battery charging standard
· Built in DC-GFP and Arc Fault Detector
· Battery temperature sensor is included
· Solar, wind and hydro MPPT modes
· Ethernet, USB and RS232
· Remote and local displays possible
· 32 MB of data logging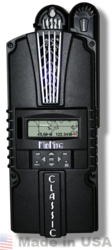 Powermax Converter AC-DC

110VAC to 12, 24, or 48VDC
Built-in 3 Stage charging and fixed single ouput modes
LED Indicator light
Temperature controlled Quiet fan cooling
Reverse Polarity, Overload and Thermal protection
2 year warranty